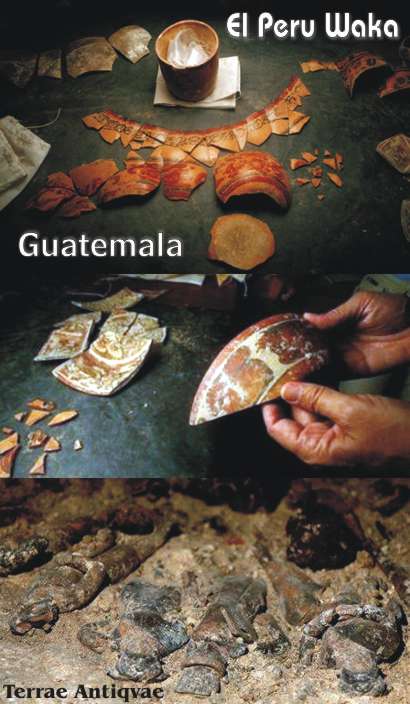 Fotos: A Guatemalan archaeologist examines pottery artefacts found at the El Peru Waka archeological site May 2, 2006. (Daniel LeClair/Reuters)
EL PERU WAKA, Guatemala (Reuters) - Un grupo de arqueólogos, con más astucia que los saqueadores de tesoros antiguos, desenterraron una tumba real maya en la selva de Guatemala y descubrieron allí joyería de jade y piel de jaguar de hace más de 1.500 años.
La tumba, hallada por el arqueólogo Héctor Escobedo la semana pasada, contiene los restos de un rey de la ciudad El Peru Waka, ahora en ruinas y cubierta por un espeso ramaje en la selva tropical en la que habitan monos araña.
El monarca podría haber sido el fundador de la ciudad, enclavada en medio de las rutas mayas de comercio, que pudieron haberse extendido desde la ciudad de Tikal en Guatemala hasta México.
"Si efectivamente es el fundador, entonces este es un descubrimiento único", dijo David Freidel de la Universidad Metodista del Sur en Texas, quien codirigió el proyecto con Escobedo.
El equipo de excavación trabajaba contrarreloj, consciente de que posibles saqueadores de tesoros podrían estar buscando en la misma área.
Justo un día antes de que Escobedo descubriera la tumba, unos saqueadores entraron en un túnel que los arqueólogos excavaron bajo la pirámide, en busca de algún botín.
Los saqueadores asaltan con frecuencia emplazamientos arqueológicos mayas en el departamento de Petén, en el norte del país.
Conocidos como "güecheros" - una expresión derivada de la palabra indígena para armadillos, debido a que excavan entre la suciedad - los saqueadores venden tesoros que frecuentemente encuentran camino a museos privados de Estados Unidos y colecciones privadas.
"Normalmente trabajan de noche o trabajan muy rápido y hacen cualquier cosa", dijo Escobedo.
El Peru Waka fue descubierto en la década de los 60, pero Escobedo y su equipo empezaron excavaciones científicas hace tres años. Tuvieron que estabilizar la pirámide donde encontraron la tumba después de que los saqueadores abrieran dos grandes túneles, dejándola a punto de derrumbarse.
El martes, otro equipo de arqueólogos encontró lo que podría ser una segunda tumba real en una pirámide en la parte alta de la colina donde entraron la primera tumba, que podría ser de unos 400 años después.
Esta tumba tiene todavía que ser abierta, pero a juzgar por la elaborada ofrenda de una decena de figuras de miniatura de jugadores de pelota, mujeres elegantes, enanos y dignatarios encontrados dentro de la pirámide, el lugar podría contener más restos de la realeza, dijeron los arqueólogos.
Un arqueólogo levantó un pequeño disco hecho de concha y jade y le dio la vuelta para revelar el perfil de una cabeza de lo que parece ser un mono.
Los mayas dominaron el sureste de México y buena parte de América Central por miles de años hasta que los españoles conquistaron esas zonas hace 500 años. Sus descendientes todavía viven en la región.
Fuente: Mica Rosenberg © Reuters, 5 de mayo de 2006.
Enlace: http://es.today.reuters.com/news/newsArticle.aspx?
type=entertainmentNews&storyID=uri:2006-05-05T153437Z_
01_LAR555587_RTRIDST_0_OESEN-ARQUEOLOGIA-
MAYAS.XML&pageNumber=0&summit=

(2) Ancient Maya Royal Tomb Discovered in Guatemala
A newly uncovered Maya tomb might be the resting place of the first ruler of Waka', an ancient city on what was a major trade route.
The tomb, uncovered deep in the jungles of Guatemala, contains a single skeleton lying on a stone bench, jade jewels, and the remains of a jaguar pelt, according to news reports.
The structure was discovered on April 29 by archaeologist Hector Escobedo of the Universidad de San Carlos de Guatemala and graduate student Juan Carlos Melendez.
It lies at the base of the site's largest pyramid, which is about 60 feet (18 meters) tall.
Escobedo is co-director of the Waka' Archaeological Project with David Freidel, an archaeologist at Southern Methodist University in Dallas, Texas.
"We are trying to identify the remains, which appear to be in good condition despite the collapse of the tomb's roof," Freidel wrote on his Web site.
"This may be the resting place of either the dynasty founder, a man we do not have a history for, or K'inich B'alam the First, the Maya king who allied with Siyaj Ka'k', conqueror of Tikal [a major Maya city] in AD 378."
"Sounds Exciting"
Archaeologists believe the site of Waka'—located in Laguna del Tigre National Park and also known as El Peru—controlled trade along the San Pedro Matir River.
At the city's height, tens of thousands of people may have lived there. Over the course of 700 years, 22 kings ruled.
Oil prospectors discovered Waka' in the 1960s. It contains 672 structures and several smaller houses.
Harvard University archaeologist Ian Graham mapped the site in the 1970s, and Freidel and Escobedo are the first to excavate there.
E. Wyllys Andrews V is a Maya scholar and director of the Middle American Research Institute at Tulane University in New Orleans, Louisiana.
Although he is not directly familiar with the discovery, he said it "sounds exciting."
"Any time you find something that early, you may well be finding something that sheds light on the early days or founding of the dynasty," he said.
Further excavations and research at the tomb, he adds, may reveal exactly who is inside.
Norman Hammond heads the archaeology department at Boston University in Massachusetts.
He says that if this is indeed the tomb of the founder of Waka', it pushes back evidence for royal burials of dynasty founders to the Maya Preclassic period, which scholars date at between 2000 B.C. to A.D. 250.
"It fits in well with the rapidly increasing evidence for a high level of economic, social, and political complexity in Preclassic Maya society," he said, "something which not too many years ago was thought to be nearly at the level of peasant villages or small towns."
The royal tomb is the second found at the site. In the spring of 2004 Freidel and his colleagues discovered a queen's tomb more than 1,200 years old and dated to the Late Classic period of Maya civilization.
On Tuesday a different team of archaeologists discovered another royal grave in a pyramid up the hill from the tomb discovered last week. The pyramid was likely built some 400 years later than the newly opened tomb.
The latest tomb has yet to be opened, but elaborate offerings of figurines of ballplayers, elegant women, dwarfs, and seated lords hint at the supposed occupant's royal status, according to Reuters.
Fuente: John Roach for National Geographic News, 4 de mayo de 2006
Enlace: http://news.nationalgeographic.com/news/
2006/05/0504_060504_maya_tomb.html